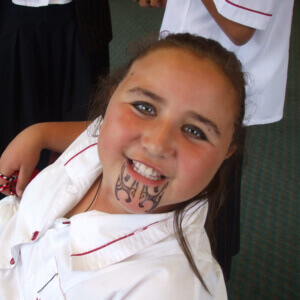 Avary
Diagnosed with leukaemia – Auckland
Avary's story
After competing in Auckland's popular Polynesian Festival in 2009, kapa haka performer Avary Patutama is encouraging more people with Maori and Pacific Island ancestry to join the NZ Bone Marrow Donor Registry. At just 3 years old, Avary was vibrant and energetic like any other child her age. Her parents, Auckland policeman Dean and wife Mary remember the day they received the crushing news that their little girl had acute myeloid leukaemia.
She was always bumping into things, but we noticed she started to bruise really easily which we thought was strange so we took her to the doctor for a check-up.
From there Avary was referred to Starship Hospital for blood tests. The results were devastating. Dean recalls 'Further tests reveal she had a very high white blood cell count and we found out that night that she had leukaemia'.
Avary's leukaemia caused an over production of immature white blood cells. These cells do not mature and cannot do the work of healthy white blood cells which protect the body from infection. These cancer cells then fill the bone marrow and prevent it from making red blood cells and platelets. Avary was admitted to Starship oncology and began treatment immediately. After some successful treatment she went into remission and was finally able to go home.
However, the joy of having Avary home was short-lived. She relapse one year later and doctors revealed to Dean and Mary, that their little girl would need a bone marrow transplant to survive.
Both parents were tested to see if they matched Avary's tissue type.
It was especially difficult to find a donor for Avary because of her unique genetic make-up which consists of NZ Maori, Cook Island Maori, Niuean and Northern European heritage.
Unfortunately Mum and Dad did not match so the search was passed onto the NZ Bone Marrow Donor Registry to find an unrelated donor.
The search was unsuccessful. There were no adult bone marrow donors for Avary anywhere in the world. However the disheartened parents soon had their hopes renewed. Because of her age, Avary was able to receive a cord blood stem cell transplant from overseas. Although the cord blood was not a perfect match, the transplant was a huge success and Avary attained complete remission later that year. If she had been an adult however, this treatment would not have been available.
Today, Avary enjoys school and loves her sports such as netball and basketball. Her family wish to encourage anyone of Maori and Pacific Island ancestry to join the Registry and help other people who are searching for hope.
Today, there are still no adult donors in the entire world that match Avary's tissue type. But she is just one of many fortunate people who've benefited from the NZ Bone Marrow Donor Registry. We need to remember other patients and their families who are still in need of bone marrow donors.

– Dean Patutama