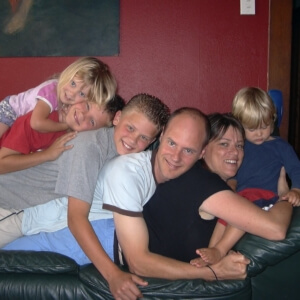 Donald
Diagnosed with Leukaemia
Donald's story
Just three months after diagnosing a young woman with cancer at a medical practice, Dr. Donald Taylor was completely unaware he would soon see her again… this time in hospital as they both underwent treatment for leukaemia.
Fit and active at 40, Donald and wife Kim led a busy but fulfilling life with their four young children; Josh (12), Jess (9), Jade (4) and Jordan (2). After returning home from working nine days at a hospital in New South Wales, Donald began noticing large bruises appearing on his legs. 'I thought it was nothing, I felt fine.'
After ignoring the marks for some time, Kim saw the bruising and told him to get a blood test. Donald went for blood tests the day before Chrsitmas Eve and later that evening, received a phone call.
I was told my blood count didn't look good. In fact it was bad. Leukaemia.
A biopsy confirmed the worst and the long road of treatment began – all within 24 hours of diagnosis. 'I felt dazed. Everything changed within an instant. I remember being admitted to hospital the next day, walking into the ward and seeing my name on a door and above a bed'. Aside from the initial shock, their Christian faith provided a sanctuary throughout the ordeal. 'We never once felt God promise I'd survive but we did have a strong and overwhelming sense of peace throughout everything'. The family routine was completely up-ended. Donald was forced to leave his family and work commitments and Kim was now looking after their four children on her own, caring for her sick husband and facing an uncertain future.
At one point, Donald's chances of survival were down to just 5%. When he was told he needed a bone marrow transplant to survive and no one in his family were a suitable match, the NZ Bone Marrow Donor Registry began the search for an unrelated donor.
Because Donald is of Northern European descent, he had access to over 25 million donors on worldwide registries. The search revealed more-than-one suitable match and doctors were able to choose from a number of potential donors to ensure the best possible result.
Donald had more-than-one matched donor. For people of Maori and Pacific Island ethnicity, it is difficult to find even one matched donor.
Donald received his bone marrow transplant and immediately began responding well to the treatment. Almost straight away his body started producing healthy new blood cells and even changed his blood type from A+ to O+! Today, the Taylor family urge people of all NZ ethnic minority groups to join the Registry so more patients can receive the life-saving transplant they so desperately need.